Employment Law for Employers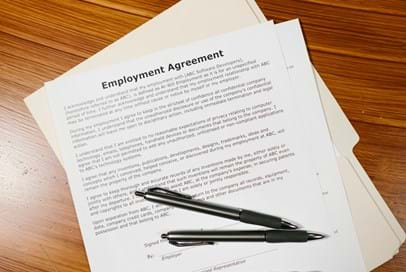 Employment Law for Employers
We can provide you with specialist advice on all areas of employment law.
Introduction
We know how vast, complex and ever changing the world of H R Management and Employment Law can be.  We can therefore provide you with specialist advice, irrespective of the size or nature of your business on all aspects of employment law such as:-
Recruitment of Staff
Contracts of Employment
Staff Handbooks including all the policies and procedures that you will require
Dealing with Disciplinary and Grievance issues
Managing issues like performance and sickness absence
Employees' Rights, e.g. maternity, against discrimination etc
Redundancies, reorganisation and restructuring
Dismissals
Settlement Agreements/Termination Packages
Transfer of Undertakings (the transfer of staff to or from you by way of a change in ownership of a business)
Post-Termination Restrictions such as claims preventing an Employee from working in competition against your business
Our Approach
Our main aim is to help you to avoid problems in the work place with staff, especially as this can effect productivity and take up a considerable amount of your valuable time.  We can make sure that you are on the right footing from the start by guiding you through the recruitment procedure and sorting out your contracts of employment, staff handbook and policies and procedures.
If we cannot prevent an issue arising with your staff, then we can guide you as to how best to deal with such matters, and can assist you with issues such as redundancy processes, disciplinary matters and/or advising upon the effect of a sale or purchase of a business.
We will help you to try and avoid Court and Tribunal proceedings.  Unfortunately from time to time matters do go to a Court or Tribunal Hearing, and we can provide you with high quality representation.  We have an excellent track record in representing businesses before a Court or Tribunal.
Employment Guard
We are one of the few firms in the area to be able to offer insurance against Tribunal claims for businesses.
Our insurance policies, underwritten through Temple Legal Protection Limited, can insure your business against a Tribunal Claim of up to £250,000 per case or £1 million in aggregate per annum.  These sums covered include not only the Tribunal award against your business but also your own legal costs. The premium can be as little as £159 per annum (including insurance premium tax) and can be made in monthly instalments to assist you with cash flow.
The benefits to your business of the scheme include the following:-
Effective management of employment law risks
Better financial planning and cash flow
Greater awareness of the correct approach to employment matters
Reducing disputes and saving valuable management time
Eliminating damaging publicity
Peace of mind
Improved employer/employee relations
For more on this scheme please read our section on Employment Guard below, or contact a member of the Team.
Costs
If you do not enjoy the benefit of our Employment Guard Scheme then we can offer fixed fees so that you can budget accordingly for your own business needs.  Your business may even have an insurance policy that includes an element of legal expenses cover for employment issues.  We can assess your eligibility under any such policy that you may have, and often agree with the insurer to take on your case in accordance with the terms of your policy of insurance.
Please see Our Fees page for a more comprehensive explanation as to costs
Here to Help
Gemma Mayer is an Assistant Solicitor who advises our employer clients in respect of contracts of employment, policies and procedures, handbooks and with ensuring compliance with employment legislation generally.
Telephone 01775 722261 or Email: gemma.mayer@maplessolicitors.com
Dav can assist businesses with advice on issues relating to taking on staff from a business that is purchased or taken over and with issues generally under the Transfer of Undertakings Regulations.
Telephone 01775 722261 or Email: daven.naghen@maplessolicitors.com